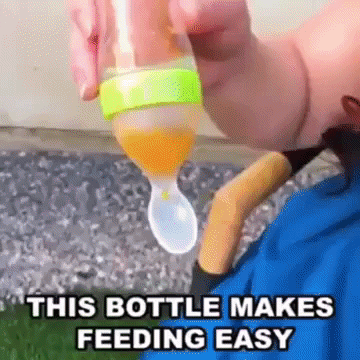 Bottle 🍼milk to soft solid foods can be a little difficult. Our bottle squeezer allows a smoother transition from formula to solid foods. Our bottle squeezer can function as both, your little one will be more accepting of the changes you are presenting him or her as he or she grows.
☑️HIGH QUALITY - Made out of only the highest quality silicone that makes it very flexible and easy for your baby to eat his or her yummy food.
☑️HASSLE FREE -  Designed to make feeding time hassle-free, mess-free, and more enjoyable for both you and your baby.
☑️EASY TO USE - Very easy to use! Simply fill the silicone bottle with pureed food and gently squeeze until the desired amount collects on the spoon.
☑️100% SAFE - Made from food grade silicone material that is BPA-free.
☑️TEMPERATURE RESISTANT - Resistant to temperature up to 120-degrees Celsius.