A thoughtful gift for the ones closest to you
Keep luck and love close to your heart. This unique necklace transforms from a lucky clover to a string of hearts. Guaranteed to brighten the day!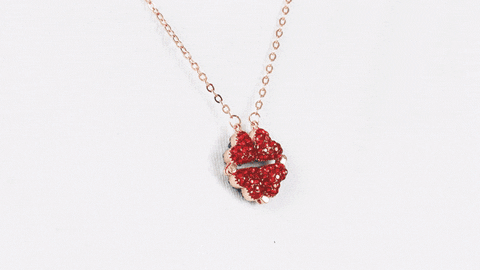 This gentle necklace is a heartwarming gift to be worn for years to come with memories of that blissful day they received it!
METAMORPHOSIS ON THE DAILY
Four gentle hearts can either form a clover, or unfold to create a string of hearts stretching beautifully beneath the neck and chest.
 A TRULY LUCKY CHARM
Matching most outfits and suitable for a variety of occasions, this lighthearted necklace will unmistakably brighten up your day and invigorate your spirit, reminding you that if you believe in luck and love, they shall come your way.
Easily switches from a four-leaf clover to hearts on a string.

Goes perfectly with most outfits.

Constitutes a most thoughtful gift.

100% Nickel and Lead-free silver & rose gold.

Forever free global shipping!
We partnered with Heart Four-Leaf Clover Necklace to bring you these wonderful necklaces at great prices. The perfect anniversary gift, treat your wife for your wedding anniversary. Delight your mom on Mother's Day, your girlfriend for Valentines Day, your daughter for Christmas or best friend on her birthday!
Specifications:
Material: Bronze
Chain: Cable, 38 + 3.5 cm