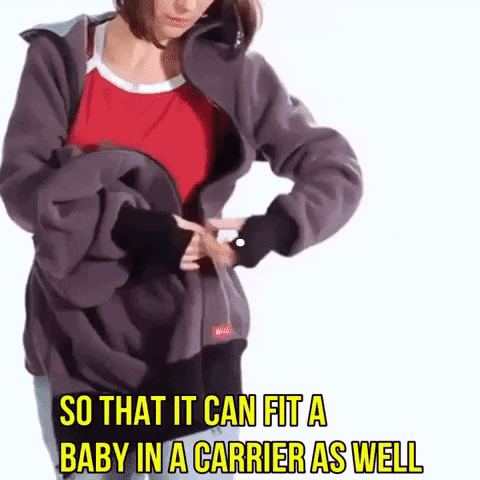 NEW KANGAROO HOODIE - PERFECT FOR MOM!
✅
Moms don't have to worry whenever they go out on the street with a bulky carriage. A solution that makes everything simpler is this Kangaroo Hoodie.
😍 
Benefits:
☑️ HIGH-QUALITY 100% ORGANIC COTTON - Made with only the finest cotton that makes it so cozy and soft during those cold winter months.
☑️ SUITABLE FOR UP TO 1.5 YEARS OLD - Made for carrying babies and toddlers depending on size and weight (it's suitable for newborns and babies up to 1.5 years old)

☑️ EXTRA ROOMY, SUITABLE FOR ALL SIZES - The pouch itself is about 50 cm long from the bottom to the top of the hood but it's an integral part of the jacket. If you're used to wearing baby sling, body weight shouldn't make a big difference.
☑️ CAN BE WORN OVER BABY CARRIERS -  It can be worn over baby slings and baby carriers such as: Ergobaby, Tula, Chico, BabyBjorn etc.
☑️ PERFECT FOR BREASTFEEDING - You can breastfeed with two long side zippers that makes it so easy to feed your little baby.
☑️ HANDS FREE WITHOUT A WORRY - You can carry your baby hands-free comfortably (It's only suitable up to 9 month).
☑️ SUITABLE DURING PREGNANCY OR AFTER - You can wear it during your pregnancy as it's very stretchy and roomy.