We will pre-sell this product at a low price $14.99 before Christmas, and when the product is sold for 1,000 pieces, it will restore the original price for $30.00.
This will make wrapping presents turn from what used to be a one hour job to a ten-minute job! It works on any paper to increase your productivity and save you time. Gives you the power to cut a perfect piece of wrapping paper every time.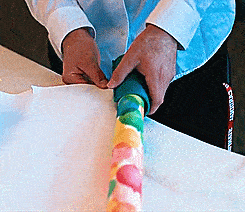 This cutter has a razor built into it that easily cuts any type of wrapping paper. Just place it around any tube of wrapping paper, and slide it down to cut.  It also doubles down as an organizer for easy storage. It perfectly hold your wrapping paper in place while in storage so that it won't unravel.
You can use it on birthdays, festivals, parties, any occasion where you need paper decoration.
FEATURES:
Silky-Smooth Wrapping Paper Cuts Every Time
Flexible Hinge, Embedded Blade
Easy to Use, Lightweight, and Fast
Efficient, and Saves You Time
Safety Lip to Protect Your Hands
Durable Plastic
No More Wrapping Paper Wastage
Made easy and fun.
It is flexible so it can be used on any size roll of paper.
Its blade angle is perfect, it's safety features, and simplicity.
It is a effective tool for cutting wrapping paper and save you time.
Simple and fast perfect cutting line!
How To Use:
1. Slide Wrapping Paper Cutter over the wrapping paper. Remember the device is flexible so it can be used on any size roll of paper.
2. Pull a sheet of paper through t he larger slot in the device.
3. Once the sheet of paper is the desired length, slide Wrapping Paper Cutter to the end of the roll allowing the paper to drop into the slot where the blade is embedded.
4. Now gently push Wrapping Paper Cutter forward to cleanly cut the paper.
5. Once the slice is complete, simply bring Wrapping Paper Cutter back to the center of wrapping paper. It doubles a an organizer! Your paper will not roll away or become unorganized.