💗Show your significant other how much they mean to you with this magnetic necklace!💗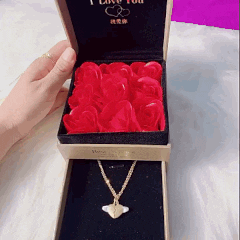 😍Some say that we're always searching for the right one. What do you do when you've found them? Let them know how much they mean to you with this necklace set! 😍
❤️A Magnetic Attraction!❤️ This necklace set looks like two broken hearts when separated but will automatically attached together to form a whole and complete heart by the magnetic in the pendant! What can be more magnetic than these pendants? Probably you and your Soulmate! 
🌟A Subtle Hint of Luxury🌟 This necklace is tiny yet golden shiny, making it a perfect little accessory to add a pop of luxury to your everyday looks without being too over the top! 
✨A 24K Gold-Plated Elegance✨ This necklace set is made with pure premium silver with a luxury 24K Gold-Plated surface! Let this necklace be an elegant surprise to your special loved one! 
🥰A Soulful Promise For Your Loved Ones 🥰 Let this necklace set be the prove of your undying love for your loved ones! This necklace is as durable as your love, till death do you apart!